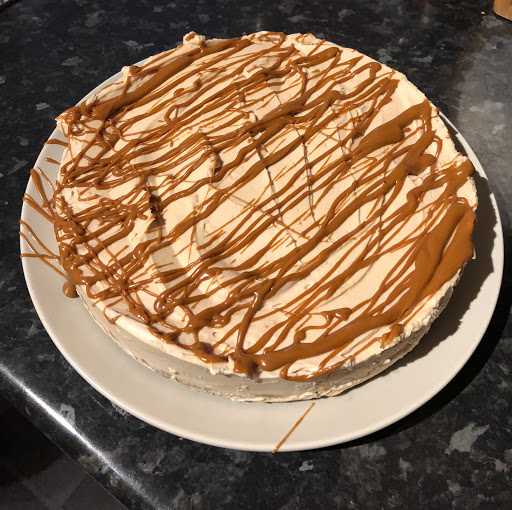 Vegan Biscoff Cheesecake!
A tasty treat for all the family! My Vegan Biscoff Cheesecake has a delicious crumby base, yet a creamy top! I chose to decorate mine with 25g of melted biscoff spread, that I drizzled with a spoon. This was specially requested as a recipe from a family member of mine, and it came out better than I thought!
Servings: 8 slices
Freezer Friendly?: No
Does it Keep?: for 2-3 days if in fridge
Ingredients:
For the Base:
200g Biscoff Biscuits
80g Melted Vegan Butter/Spread
For the Cheese Filling:
700g Vegan Cream Cheese
150g Biscoff Spread
50g Caster Sugar
Method:
To make the base, crush the biscuits in a sealed bag, using a rolling pin. Then combine with the melted dairy-free spread. Press the mixture into the bottom of an 8″ Round Spring Form Tin and put in the fridge for 20 minutes.
2. For the topping, measure out all the cream cheese, sugar and biscoff spread into a large bowl. Beat them together with an electric whisk and spread the mixture over the base.
3. Put in the fridge for at least 1 hour, so that the topping sets. If it's not setting quick enough, put it in the freezer for a little while.
Made This Recipe?
Leave me a message in the comments to tell me how it went!