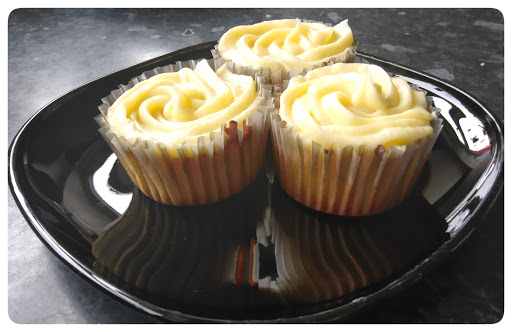 These sweet treats are a lemon and yogurt cake with lemon buttercream. Unfortunately they are not vegan, and can't be converted to vegan because you have to beat the egg whites. This recipe is based on Mary Berry's Lemon and Yogurt Cake. I love these cupcakes because they remind me of Easter!
Servings: 15
Freezer Friendly?: Yes
Does It Keep?: 4-5 days in an airtight tin
Ingredients:
For the Cake:
300g Caster Sugar
50g Softened Butter
3 Large Eggs Separated
225g Greek Yogurt
Zest of 1 Lemon
175g Self-Raising Flour
For the Buttercream:
600g Sifted Icing Sugar
275g Softened Butter
Juice of 1 Lemon
Method:
Preheat the oven to 160ºC (320 degrees Fahrenheit). Prep 15 cupcake slots with cupcake cases.
2. Beat together the sugar, butter and egg yolks in a bowl, using an electric mixture. Add the yogurt and lemon zest and beat until smooth. Put the rest of the lemon to the side for later. Gently fold in the flour.
3. In another bowl, whisk the egg whites until the form peaks and carefully fold into the mixture. Put a scoop of the batter in each cupcake case, making sure they are all even.
4. Bake for 10 minutes, or until a skewer comes out clean. Once out of the oven leave to cool for 30 minutes.
5. To make the buttercream, put the icing sugar and butter in a bowl. Juice the lemon that was leftover, and add it in the bowl. Mix using an electric mixer, until nice and smooth. If it is not lemon-y enough, add more lemon juice.
6. Once you are satisfied with buttercream and your cakes have cooled, pipe the icing onto the cupcakes. Once that is done, they are ready to enjoy!
Made this Recipe?
Leave me a message in the comments to tell me how it went!