This moist banana cake is delicious warm with custard, but also cold! It uses up over-ripe bananas that are not edible anymore! If you want it extra banana-ry add in two bananas!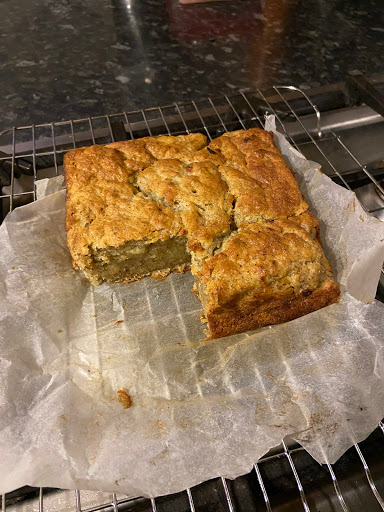 Servings: 8
Freezer Friendly?: Yes
Does It Keep?: 2-3 days in an airtight tin
Ingredients:
1 Over-Ripe Bananas
87g Caster Sugar
87g Self-Raising Flour
87g Dairy-free spread
A few drops of Vanilla Essence
3tbsp Chia Seeds
9tbsp Water
Method:
Preheat the oven to 160°C (320 degrees F) and line a loaf tin with greaseproof paper.
2. Put the Chia Seeds and Water int a bowl and stir until the mixture thickens. Its ready when at an egg-like consistency.
3. Put all of the ingredients into a bowl and blend using an electric mixer.
4. Pour into the tin and bake for an hour.
Made this Recipe?
Leave me a message in the comments to tell me how it went!